Cooking Beatz
Two Brooklyn babes who know how to kick it in the kitchen and get down on the dance floor. Here's where you'll find radical recipes, bangin' beats, and our adventures in the hood.
7thMay
Mon
7thOct
Fri
Oh dear, dear chimichurri, not only is it absolutely delectable on almost anything, but it is also fun to say as well. Come on, try it, chimichurri 3x fast… you know you want to.
Tongue twisters aside, chimichurri is one of the most delicious sauces… ever. A gift from Argentina, though it is used in many South American countries, basic ingredients in traditional chimichurri include flat leaf parsley, fresh garlic, extra virgin olive oil, vinegar (red, white or sherry), salt, pepper and red pepper flakes. The red version of chimichurri includes tomato and red bell pepper in the mix.
I have been a huge fan of green chimichurri for as long as I can remember, often tempted to lick the sauce bowls it comes in at South American restaurants, so I knew it would only be a matter of time until I was inspired to make my own chimichurri. Lucky for all you Cooking Beatz readers, last night was that time! After finding some gorgeous organic flat leaf parsley from Tops in Williamsburg, BK, I headed into the city to Eataly and decided to absolutely spoil both myself and my boyfriend by buying the most beautiful porterhouse steak I have ever seen. I then grabbed some lacinato kale and was on my way back home to start cooking what I call, Grilled Steak with Chimichurri over Lacinato Kale tossed with Lemon and Olive Oil.
Here is what you'll need:
1 large bunch of flat leaf or Italian parsley
1/2 cup of Zoe Diva Select Vinagre de Jerez Reserva sherry vinegar
1 cup of Zoe Diva Select California Extra Virgin Olive Oil (available at Sahadi's Specialty and Fine Foods in Brooklyn)
2 large cloves of garlic
Salt and fresh ground black pepper
Red pepper flakes
Steak — Any cut of steak will do. I used a Porterhouse for this recipe though flank or skirt steak is commonly used. Tip: If you use flank or skirt, try marinating it over night in a mixture of sherry vinegar, olive oil, crushed garlic and salt to tenderize.
1 bunch organic Lacinato (dinosaur) kale
Fresh lemon juice to taste
Directions:
1. Rub your room temperature steak with olive oil, salt and pepper. Wash the flat leaf parsley then cut the stems. Peel your garlic cloves.
2. Either finely chop the parsley and garlic with a knife or chop them quickly in a food processor as I did. Mix in the olive oil, vinegar, some red pepper flakes and salt and black pepper to taste. Be sure to do this slowly and to taste often as required quantities may fluctuate.
3. You have now made delicious chimichurri. Put the sauce aside. Pour about 1 tablespoon of olive oil into a frying pan on stove-top. Turn the heat to high. Once the oil is hot and moves easily in the pan, place your steak in the pan. It is key to make sure that the oil is hot before you start cooking the steak. Hot oil ensures a beautiful sear on the steak which is just delicious for anyone involved…
(gorgeous Le Creuset pan courtesy of the fantastic Benjamin Rowland)
4. Cook time for the steak will depend on a couple of factors : a. how thick the steak is and b. how you like your steak. My Porterhouse steak was about 1.5in thick and Ben and I tend to like our steaks very rare. I cooked each side of the steak for about 6 minutes. For rare flank or skirt steak, give it about 1-3 minutes on each side depending on thickness. Increase time depending on how rare/not rare you like your steak.
5. If you want to impress: turn the steak about 90° halfway through the coking time on each side. This will give you some snazzy and sure-to-make-you-smile grill marks.
6. While the steak is cooking, wash the Lacinato kale thoroughly and spin dry (making sure that the kale is completely dry will ensure that the dressing does not slide off the leaves). Chop into bite-size pieces. Toss with lemon juice, olive oil, and sea salt to taste.
7. Once the steak is finished to your liking, remove from the pan. Cut into medium thin strips.
8. Arrange on plate over a bed of the now dressed kale. Spoon your ridiculously delicious chimichurri sauce over the steak and serve. As an add-on, I toasted some baguette pieces in the pan that the steak was cooked in and rubbed a little bit of raw garlic on both sides. ENJOY!
Consumer warning: this recipe will be devoured at a light-speed rate and enjoyed immensly. May cause sporadic applause.
//posted by piera
5thOct
Wed
Hello Cooking Beatz readers! I am happy to report that I now have a new job working for Zoe brand gourmet in marketing/social media. This is basically a dream job for a food loving gal like me. I get to promote and market amazing olive oils, vinegars, tuna, rice and sardines from Greece and Spain in addition to managing the company's blog. I am enthusiastically encouraged to bring home goodie bags of our products on a daily basis in order to create original and delicious recipes for the Zoe brand blog. Lucky for Cooking Beatz readers, I will also be posting these recipes here!
Now lets get down to business. Sherry vinegar is a gourmet wine vinegar made from, you guessed it, sherry. It is produced in Cádiz, a Spanish province and must be aged in American oak for a minimum of 6 months in the "sherry triangle" a triangular area between the city of Jerez de la Frontera and towns of Sanlúcar de Barrameda and El Puerto de Santa María. 
Last night, I decided to "sherrify" Poulet au Vinaigre, chicken in a vinegar sauce that is traditionally prepared with cider or red wine vinegar, with Zoe Sherry Vinegar. The results? A chicken dish that made you want to lick the remnants of sauce off the plate. Easy to make and sure to delight anyone, this is a dish that works for any night of the week whether it be dinner for two or for a dinner party (simply increase the quantities of ingredients accordingly).
Here is what you'll need:
1 3lb chicken butchered into pieces (I was low on time so I opted for a 3lb pack of organic chicken thighs instead)
2 tablespoons of extra virgin olive oil, more to taste. (I used Zoe Diva Select Greek Koroneiki)
1/2 cup of Zoe Sherry Vinegar
3 tablespoons of butter
4 garlic cloves, minced
1/2 Spanish onion, chopped
Sea salt and pepper to taste
Directions:
1. Preheat your oven to 450°F.
2. Pour 2 tablespoons of olive oil into an ovenproof skillet and heat on your stove top. While the olive oil is heating, salt and pepper your chicken pieces on both sides.
3. Place the chicken pieces skin side down in the skillet and brown for 3-5 minutes. Flip the pieces and brown for an additional 3 minutes.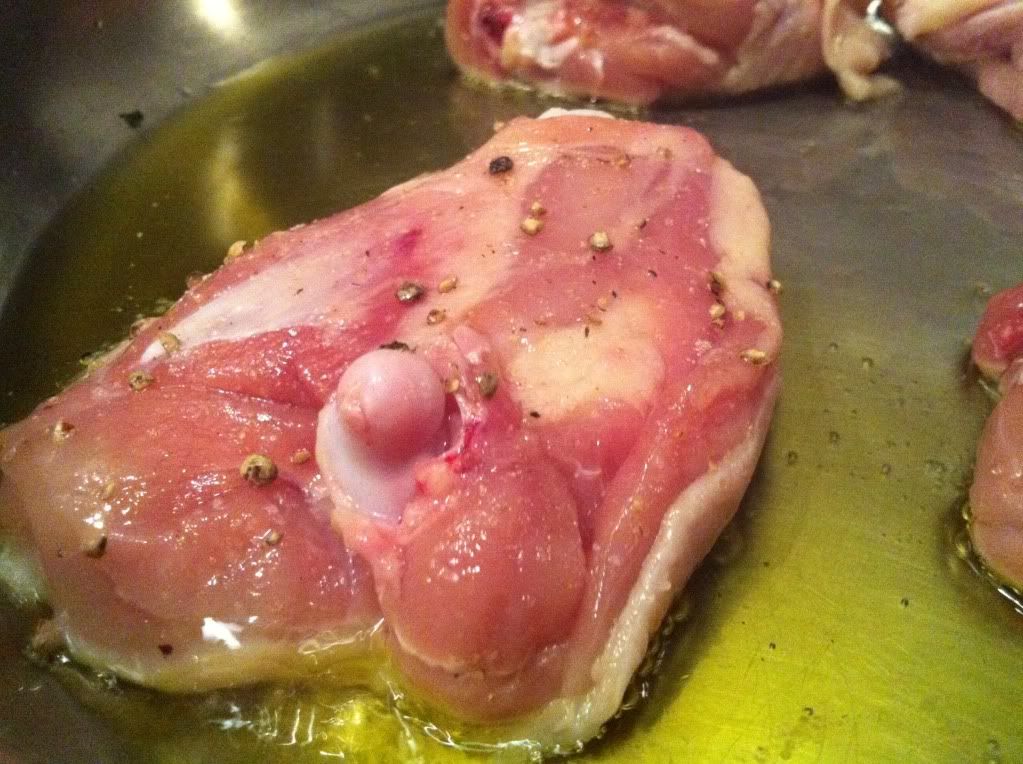 4. Once the chicken is nicely browned, place in the oven and cook for 15-20 minutes. Mince the garlic and chop the onions. When done, the juices will run clear and the meat will be slightly pink near the bone.
5. Remove the chicken from the oven. Turn off the oven. Transfer chicken to an oven safe pan and place back in the oven with the door slightly ajar.
6. Pour out and discard all but 3 tablespoons of the liquid in the skillet. Place the skillet on the stove top on medium-high heat. Add the onions. Cook the onions for 5 minutes until they begin to turn translucent. Add the garlic, 2 tablespoons of butter, salt and freshly ground pepper. Cook for an additional 5 minutes.
7. Add 1/2 cup vinegar and 1/2 cup water to the skillet. Cook until the highly acrid smell of vinegar is lessened, about 10 minutes. Add the remaining tablespoon of butter and an additional 1/2 cup of water. Stir until the sauce has thickened and reduced, about 5-7 minutes.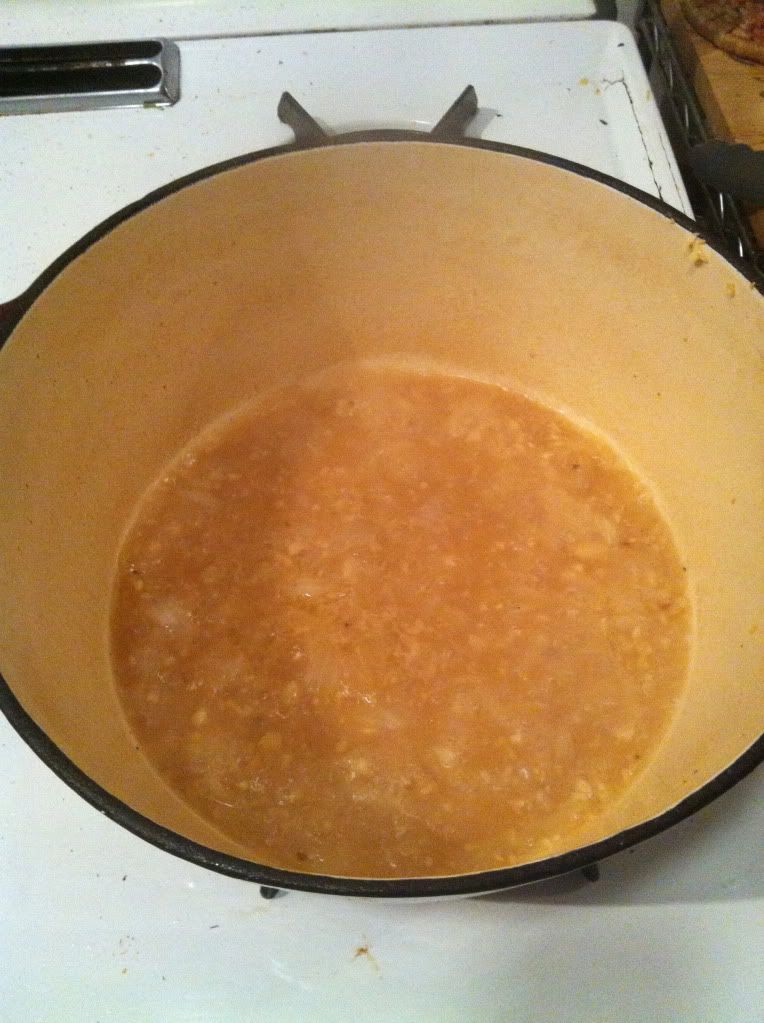 8. Take the chicken out of the oven and turn the heat off the sauce. Turn each piece of chicken over in the sauce a few times.
9. Spoon any remaining sauce over the chicken. Serve immediately and enjoy!
//posted by piera
4thOct
Tue
15thSep
Thu
Without a doubt, one of the best meals I had this summer consisted of the amazing fish tacos at Rockaway Taco. With temperatures dropping this week and fall veggies around the corner, a summer sendoff meal seemed appropriate; we decided on truck-style fish tacos along with various hot weather garnishes. For a musical accompaniment, one of the most exciting fall releases felt right: St. Vincent's Strange Mercy, which came out just two days ago and is currently streaming for free on NPR. I can't get enough of her unsettlingly eerie lullaby voice, dramatic organ-inspired synths, and lurching guitar rhythms—it all adds up to a disturbing and completely enchanting art rock record. Check out standout track "Cheerleader," a dark and careful self-therapy session… or just listen to the whole damn thing.
The tacos were comprised of:
Tilapia battered and fried in flour and buttermilk, with a dash of cumin and Mexican oregano
A homemade aioli made of poblano pepper, jalapeño, tomato, roasted garlic and olive oil
Thinly sliced red cabbage marinated in sherry vinegar
Slowly caramelized onions
A dab of avocado, a sprinkle of queso fresco, and of course some siracha to finish it off!
And on the side, we had roasted corn with lime and manchego
A final shot of our meal: Farewell summer!
// posted by marley
13thSep
Tue